Audio recorder jammer WD-88 is device that prevents any un-authorized recording of conversations with audio cassette recorders or audio digital recorders.
Introduction
The Audio Recorder Jammer WD88 suppresses the operation of the recorders by radiating noise interference. The parameters of the noise interference are specially adapted for suppression of many types of recorders. It improves the functioning performance of the jammer. WD-88 does not make any acoustic noises when it is working!
You can use Audio Recorder JammerWD88 as desktop device in your office, as standalone device in your briefcase. It is in clock design and disguise its actual function. You can put any of the office item on top of it (such as phone set, penholder, etc.). Thus, you can hide functioning of the jammer from anyone who is trying to get the confidential information.
Furthermore the Audio Recorder Jammer WD88 can jam >85% types of (Cassette Tape Recorder) analog recorder equipped with wire or without wire microphone that you can buy in the market and ~50% types of digital recorder that you can find in the market, but except digital recorder that integrated with mobile phone.
You can use the remote control unit to activate/deactivate the suppression.
Features: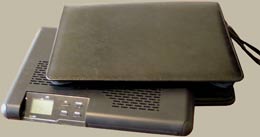 Audio Recorder Jammer WD-88
with Briefcase
The suppression of audio cassette recorders.

The suppression of audio digital recorders.

Real time clock.

Remote control.

Long operation time - up to 2.5 hours.

Intelligent fast battery charger.

Low weight.

Size is suitable for portable application.

It can be completed with a Bullet-Proof Briefcase

Specification:

Distance of suppression digital recorder, max


0,5 - 2 meters
Distance of suppression cassete recorder, max


3 - 8 meters
Suppression beamwidth horizontal


100

o

Suppression beamwidth vertical


80

o

Remote control range:


up to 7 meters
Operation time, max:


2.5 hrs
Dimension:


290x210x30 mm
Product Weight:


1,8 kg
Power Supply


14.4VDC; 4500mAh Ni-MHx12 Rechargable Battery
Charger


110V-240VAC / DC 24V 3A (International power adaptor)

Examples of using Audio Recorder Jammer WD-88

Audio
Recorder


using in Official meeting



WD-88
Audio
recorder


using in Confidential meeting.



using in Production meeting